As a dedicated railfan and modeler, I'm often treading the fine gray line between safe distances and trespassing. Depending on the type of photo I'm taking. I've been shooting trains and freight cars for over 10 years now. A fraction of the time local legend Jerry Quinn has, to be sure. He can probably attest to this, as I can, that we will arouse more security attention than the knuckleheads who blatantly defy signage and or common sense. Must be the camera around our necks. Here are a few candid pics of people I've seen get away with crazy behavior along the Right Of Way. Not a single RR Cop around, of course.
This fellow, going shirtless on a hot Summer afternoon, decides it would be a shorter trip home if he took to the tracks. After all, the shortest distance between two points is a mainline, right? Ironically, he was heading right towards the BNSF facilities at Yardley. I'm all like, "Seriously dude?" What struck me was the way he pressed on ahead, having only looked behind once.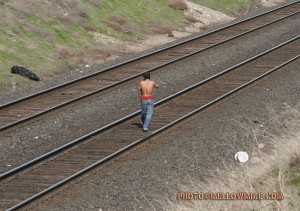 That was several years ago. I figured I'd never see something like that ever again. Well, I was wrong. The guy above was just being all macho, and did not seem impaired at all. The fellow below was a whole different story. This lively character has been living (by definition only) below the Hamilton overpass by the Erie Street Yard. On this fine day, he awoke around tea time, and ambled over to the tracks to walk off a bender. A mixture of ghetto hip hop swagger, undetermined substance or alcohol intake, and perhaps a spark plug or two short of a dependable ride. Here he is in on the Eastbound main, bopping along, not looking to see if anything is coming up behind him.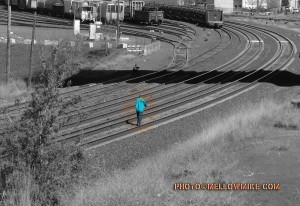 He calmly spins around, without falling, and this time faces the right direction at least. He gets near where I am, and then kinda stops in place, and appears to draw a blank. But continuing to remain in the center of the rails, oblivious not only to me, but seemingly the rest of the world too.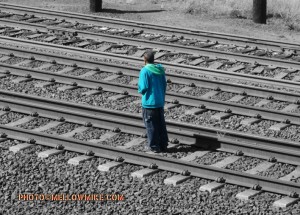 He eventually shuffled back the other way, and cleared the track, lingering around near his "back yard". About 3 minutes later an Eastbound train DID come along. I motioned quickly to the engineer, and pointed towards the fellow, who by now was next to a bridge pillar (maybe relieving himself, I dunno). But the train did not sound his horn. Either the engineer thought I was a daffy foamer, who couldn't wave properly – or he didn't think the fellow was a danger.
Next we have this couple, who, not even a full minute before, crossed the tracks in front of the train. And they didn't jog across either. More like a power walk. Are you kidding me…? To my knowledge, there aren't any pedestrian rights around a railroad. As you know, the engineer of a train sits on the right side, so these folks will soon be in his blind spot. And once again, no horn was sounded. I wave at some trains and get a friendly toot – but it's too much trouble, I guess, to warn someone…?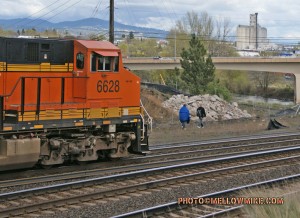 I should mention that photo above was not doctored. It was only a pair of diesels running on the Amtrak approach – not a whole train. And it was moving at a slow steady pace. There are replacement rails laying alongside the track.
This next one is more like a Ride On The Walk Side.
Some cyclist calmly pedals along the roadbed, against an oncoming train, which is a full train, at normal speed. You can tell by the ditch lights being on. Granted, the train is on the middle track, it still has to count as a dumb-ass thing to do. There is a steep drop off immediately to his left, and he's approaching a RR overpass where these tracks go over a road down below. Thrill seeker or spill seeker…? And no horn tap warning on the part of the engineer.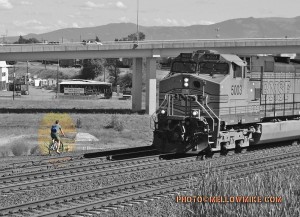 Working our way up the scale of stupidness would be these schoolkid tweens. They monkeyed their way up the billboard supports and got onto the viaduct through Downtown. Here they are looking away from the tracks, presumably calling a friend down below "chicken". I figured, "Okay… I might have done this in my youth… a rite of passage". But when the train comes along, I see these two boys go up and TOUCH the moving freight cars, and quickly back off. Then once more. Not cool at all. If you got a hand or a finger caught in something, it would either pull it clean off, or yank you under a wheel and sever a body part. I yelled something to them once the train had passed, and they climbed down off the viaduct.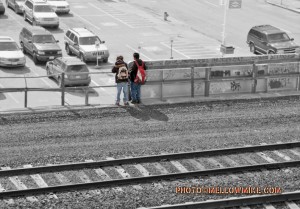 Finally, here is the worst offense I have witnessed to date. This young couple were hiking up where I was, and even acknowledged my presence with a "Hey, sup." What I wasn't prepared for was the two of them crossing the tall bridge on foot. Okay, I maybe have crossed ONE bridge before, but you could see pretty far in either direction. But it was not this tall, and there was a river below it. Even though you can see there is a bit of room against the railing here, it would be very disconcerting to an engineer if he came around the bend, or up behind them. Would they have time to run…? Where would you land if you jumped…? The big GE diesels have been known to glide through here without rumbling loudly. I'll be looking away at something, and then there is a train out of nowhere. Add to this the sounds of frequent jet aircraft overhead approaching the airport.
I'm sorry – but this is just wrong on so many levels. Please don't do this….
There have been a couple or three instances I didn't photograph, because the perps were facing me. One of the craziest was when a long freight train was stopped for a red signal, along a spot where people love to cross the tracks. These 3 guys on bikes ride up, and seeing the train sitting there blocking their shortcut, simply shove their bicycles under a 3-bay hopper. Then two of them climb up over the coupler platform, get down on the other side, and pull their bikes through. The third one ducked under the hopper and emerged on the other side, pulling his bike. Total insanity. It's a double track mainline. You're going over – or under – a freight train onto a second track while collecting your bicycle. All the warning you have when a train starts to roll is the hiss of the air in the brake lines. They saw me and asked for some directions – and I wanted to say "You're going straight to Hell".